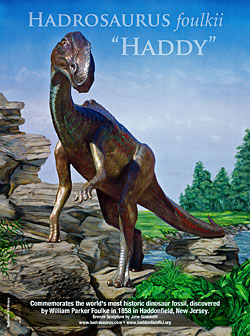 Buy it now with PayPal.
(See larger image) Purchase a single poster for $10.00 plus $3.00 shipping via PayPal right now. Or, our education specials below allow teachers to purchase discounted quantities. Click to order and pay.
This 18x24 inch poster celebrates the bronze sculpture of the dinosaur Hadrosaurus foulkii that now stands in the center of Haddonfield, N.J. This full color offset lithograph is hand signed by sculptor John Giannotti and printed on heavy, coated stock suitable for framing.
The image depicts the sculpture against a background illustration by Bill Massey. It shows the famed dinosaur as it would have looked during the Cretaceous era when it lived along the coast of what is now southern New Jersey.
The dinosaur sculpture has become a widely-recognized symbol of the Borough of Haddonfield and a major landmark of Southern New Jersey. The historic fossil it depicts was excavated from a local marl pit in 1858 at a time when almost nothing was known about the actual anatomy of dinosaurs. The find ultimately triggered excavations across the continent that provided physical evidence of the extraordinary nature and diversity of these unique prehistoric beasts.
Aside from being the first nearly complete dinosaur skeleton ever discovered anywhere in the world, Hadrosaurus foulkii is also the first dinosaur ever mounted in a museum anywhere in the world and the official fossil of the State of New Jersey.

All Rights Reserved © 2019, Hadrosaurus.com
editor@Hadrosaurus.com